Who We Are
The Asociación Manuel Álvarez Bravo, A.C. was founded in March 2005 at the initiative of Álvarez Bravo's widow and two daughters for the photographer's personal archive to be fully preserved, in optimum conditions, and to remain in Mexico. It is a non-profit organization that has tax-deductible receipts for donations through which support, grants, and donations can be received.
The Archivo Manuel Alvarez Bravo, S.C. was founded in November 2011 in order to optimize and complement the work of the Association. Its four-member team is devoted to conserving and researching the archive of Manuel Álvarez Bravo's negatives and to spread awareness of his legacy. It offers consultation and advisory services, coordinates projects related to the artist, and ensures the continuation of the legacy of his work.
Both organizations are headquartered in the house in Coyoacán that don Manuel lived in for the last forty years of his life.
We aim to make our work accessible and useful for those who are unfamiliar with it or who know little about Álvarez Bravo's work, as well as to those who are interested or dedicated to photography as an art form and document.
We also address those for whom, like ourselves, photography in general and the work of Manuel Álvarez Bravo in particular are a part of the cultural heritage of Mexico and the world.
We are aware that the work that we hold is not only extremely valuable, but also fragile. It is our responsibility to protect it and, at the same time, to ensure its use to fulfill our mission.
Our goal is to secure the structure and sufficient resources to fulfill our mission, as well as to offer more and better services. We endeavor to be an organization recognized for its independence, its capacity for development, and long-term viability.
The Archive aspires to grow and be consolidated as a cultural organization that promotes knowledge and enjoyment of photography and that participates actively in the cultivation of the arts in Mexico and abroad.
In 2017 the archive of negatives, documents, and publications of Manuel Álvarez Bravo was inscribed in the UNESCO Memory of the World Programme.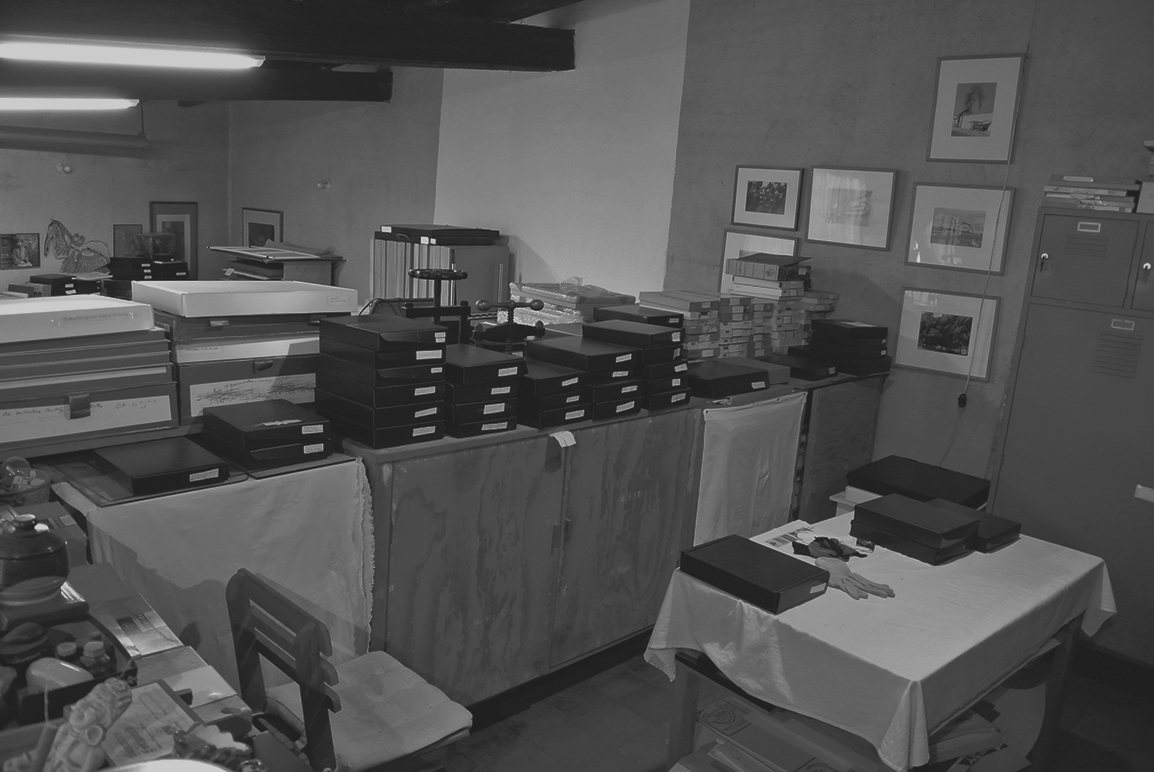 Works by Manuel Álvarez Bravo can be acquired at the following galleries:
Alla
James Dunlap, Barbara A. Sommer.
102 West San Francisco St., Suite 20. Santa Fe, NM 87501
Tel: 505/988-5416
alla@newmexico.com
La Galerie Rouge
3 Rue du Pont Louis-Philippe, 75004 Paris, Francia
Tel: 331/42773824
contact@galerieagathegaillard.com
Archivo Manuel Álvarez Bravo SC
Asociación Manuel Álvarez Bravo AC
Oficinas y taller:
55 55 54 40 80
President:
Colette Urbajtel†

Director and Project Coordinator 

Coordinación de proyectos:
Aurelia Álvarez Urbajtel

Administration
Verónica García Domínguez

Lab, Scanning, Care of Materials, Mounting and Framing Works:
Ma. Del Carmen Mondragón Morales

Research, Cataloguing, Social Networks:
Claudia Perulles Marín

Research Consultant:
Rosa Casanova

Conservation Consultants:
Fernando Osorio Alarcón

Technical Board:

Rosa Casanova

Evelyne Daitz†

Agustín Estrada

Graciela Iturbide

Cristina Kahlo

Carlos de Laborde

Bob Schalkwijk

Clark B. Winter, Jr.